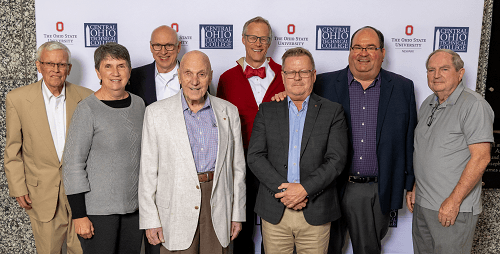 Dr. Robert A. Barnes was joined by family, friends, and fellow board members of The LeFevre Foundation at a special recognition luncheon on September 15, 2023 to announce the naming of the Executive Leadership Suite within the newly renovated Louella Hodges Reese Hall in his honor.
Dr. Barnes' served as the first Dean of Ohio State Newark and President of Central Ohio Technical College. His primary responsibility as the dual director of the Newark Campus was to foster a spirit of mutual respect on the part of COTC and Ohio State Newark. Throughout his presidency, Dr. Barnes was most respected by his associates for putting student needs and interests above all else. The "student-first" philosophy underscored the successes Dr. Barnes, his fellow administrators, faculty and staff achieved during his tenure as president. Enrollment grew significantly each school year, much needed technologies were developed, accreditation was secured from the North Central Association, and campus academic facilities doubled in size.
"While serving as founding President of Central Ohio Technical College and Dean of Ohio State Newark, this Campus was my life. It was my passion. It became my other family. It was a once-in-a-lifetime opportunity for which I will always be grateful." – Dr. Robert A. Barnes
The Dr. Robert A. Barnes Executive Leadership Suite naming was made possible by a grant from The LeFevre Foundation, to which Dr. Barnes has been a member of the board since the early 1970s.
The shared executive suite for the COTC president and the Ohio State Newark dean/director will include a separate entrance and reception are for each school, a shared conference room, and individual office space for each leader's executive assistance as well as the joint chief of staff and the join chief diversity officer. The shared administrative suite is representative of the unique cost-shared relationship of the Newark campus.
For more information on this project visit our Founders Hall Renovation page or contact Jennifer Roberts at 740-349-8276 for more information on giving and naming opportunities within the renovated Louella Hodges Reese Hall.
Photo cutline: Dr. Barnes (pictured fourth from left) is photographed with fellow board members of the LeFevre Foundation, employees of Truck One, and Dean MacDonald.