Tabi Porter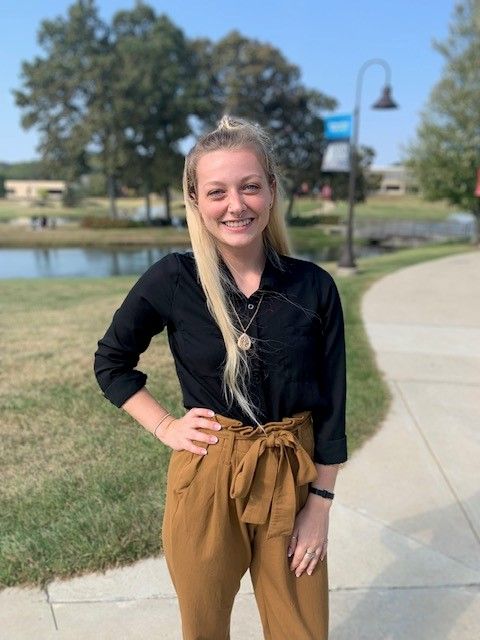 Tabi Porter, senior at the Ohio State University at Newark, is a buckeye at heart.  It is on the Newark campus that she discovered her true self.  Because of the generosity of donors to the Newark Campus Development Fund, she found her place in this world and will continue to encourage people to go to college even though they may set out on a journey uncertain of which path to choose.  
A Call to College, the non-profit organization that helps to make college accessible to Newark High School graduates was instrumental and influential in showing Tabi all the Newark campus has to offer.  When looking back on her high school days, she will be "forever indebted to A Call to College. They have truly encouraged and supported the important decision making."  She saw many of her fellow classmates exploring college options away from home and out of state. Staying close to home, to her family and friends, was important and not something Tabi was willing to give up just yet.  She soon realized that OSU was where she belonged.  It is a place of diversity and vast opportunities.   
Because of the support from A Call to College as well as the ability to stay connected with her family, Tabi realized that it was ok to enroll without seeing a clear picture of her future.  After taking an introductory social work class, her perspective and view of the world changed.  She could now see things through a different lens, one that focused on human rights.   She felt great compassion for those who fall through the cracks in our society.   It was a time of self-discovery for Tabi:  "A lot of people need help and I have the heart to do it." Along with finding her passion in social work, her grades soared.  Attending college to Tabi was "a different world.  It's all up to you.  You are the master of your future."  
Tabi's future is no doubt bright because of The Ohio State University at Newark, A Call to College, and generous donors to the Newark Campus Development Fund.  She has received the Last Dollar Grant for each of her four years on campus.  Whether paying for tuition or books, "every dollar, every penny counts."  The impact scholarships awarded by NCDF has on students like Tabi is tremendous.  It eases the financial burden so that students can take the chance to pursue higher education to enhance their lives. Donating money to fund someone's college education truly is a ripple effect.  A scholarship supported her pursuit of education while an introductory class opened her eyes to how she can help people in our society.  Just one person's generosity has opened up so many opportunities and allowed Tabi to spread her wings and fly. There is no doubt that her experience of receiving others' generosity will inspire her to one day do the same.
Myla Yang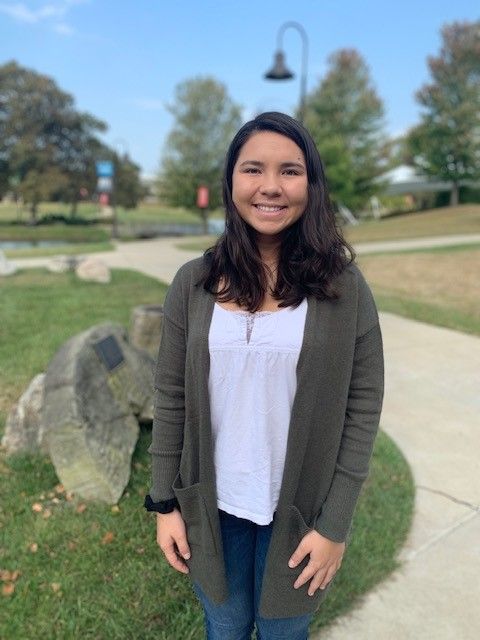 Myla Yang has very big goals.  She is a sophomore at The Ohio State University Newark campus majoring in pre-med neuroscience.  Her dream is to be a neurosurgeon one day.  Her message to potential donors to the Newark Campus Development Fund?  "It is so important to give if you can because you are investing in someone's future, someone who can go on to do great things.  You are nurturing growth in someone, allowing them to focus on doing their very best." 
After graduating from Newark High School in 2018, Myla has already grown in so many ways.  She was selected for the Honors Program and is able to earn money by tutoring fellow students on campus.  In addition, she was selected for the LeFevre Program and is also a member of the Laurel Collegiate Society.  One other very unique opportunity is her participation in the Buckeye Generation Learning Community, a program for freshmen with classes taken as a cohort and additional activities to get to know the campus, resources, fellow students, and faculty.  In addition, Myla has participated in the second-year STEP program where it is required to attend professional development events as well as co-curricular events.  In her second semester, she is eligible to write a proposal for a grant to study abroad.
 All of these opportunities are available to Myla because someone saw the value of education and invested in her future.  Because of this investment, Myla has the financial freedom to apply herself more in the classroom and gain an outstanding education while doing her very best.  She has the time to apply to her studies as well as give back outside of the classroom.  As part of the LeFevre Program, Myla gives of her time to help others.  Some opportunities in which she has participated include cleaning rooms and making lunch at the Ronald McDonald House in Columbus, tending to the Together We Grow Gardens in Newark, and building houses for Habitat for Humanity.  To Myla, "it's like a chain reaction—donors who give money allow me to save money and in turn give back.  Whether its big or small, I am so appreciative!"   
It is exciting to see where students like Myla will go! 
Drew Dunsford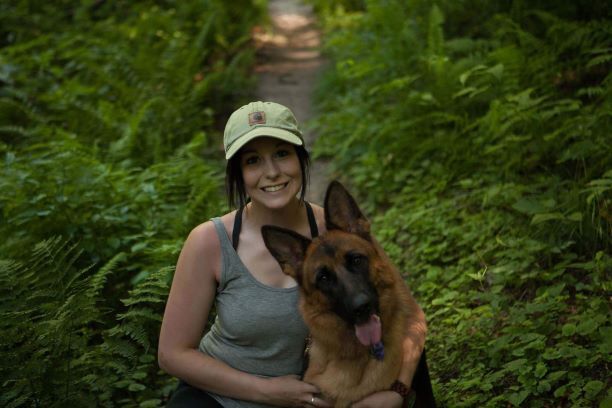 Drew Dunsford, senior at The Ohio State University at Newark pursuing a degree in Zoology, sets goals and works hard to achieve them.  At just 23 years old, she inspires many with her work ethic and drive.  Six days a week, Drew starts her day working at Park National Bank in Newark and attends college classes in the afternoon and evenings.  Her weekends are rewarding, spent catching moments thru photography.  She established Fields of Frames Photography because "the interaction with taking pictures is rewarding."  In addition, she makes time to care for her two-year old German Shepherd, Suzie Q, whom she adores. 
Drew's love for animals is what inspired her to pursue a career interacting with animals. Whether it be through snapping photos, animal keeping, or guiding nutrition, her zoology degree will be more than just working at a zoo. 
Drew credits the success of her busy life to "finding the right resources to do what you want to do."  She is a recipient of A Call to College Last Dollar Grant to assist with the expenses of schooling for four years.  She recalls receiving the news that she had been awarded a scholarship: "It dropped me to the floor; I was in tears.  It was the biggest deal."  To so many, the high cost of college makes it seem so out of reach.  Drew can positively say, "You can afford to go to college.  Scholarships make the biggest difference.  College is not impossible.  It is not out of your reach."
This is just the beginning for Drew.  She has found The Ohio State University at Newark a place to pursue her dreams and is motivated to be a part of the community to give back.  Because of her work ethic, drive, and determination, Drew has a bright future ahead.
Cole German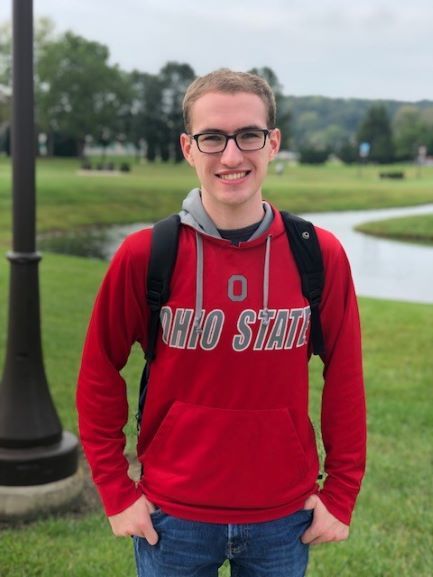 Cole German, senior Business major at The Ohio State University at Newark, is thankful every day for the opportunity to go to college.  As a result of generous donations, including A Call to College Last Dollar Grant and the William T. and Jane C. McConnell Scholarship, he will graduate in December 2019. 
Cole graduated from Newark High School in 2014 and knew that The Ohio State University at Newark was the best path for his future.   Attending the Newark campus has allowed Cole to save on expenses and continue working the part time job he has had since his senior year in high school.  The opportunities presented to him both in the classroom and on campus have given him the chance to focus on his goals and aspirations.  Today he sees himself helping people in the world of finance.  The small class sizes, interactive and available professors, distance learning opportunities, and accessibility to financial support are all reasons that The Ohio State University at Newark was the perfect fit for him. 
Even before choosing Business as a major, Cole knew that it was important to make good decisions for his financial future.  The generosity of so many have made such an impact on students like Cole.  The availability of scholarships and grants, "no matter the amount, even just money to pay for books, is so appreciated."  To Cole, "it's a big weight off your shoulders knowing you can pay for schooling." 
Hunter Spinks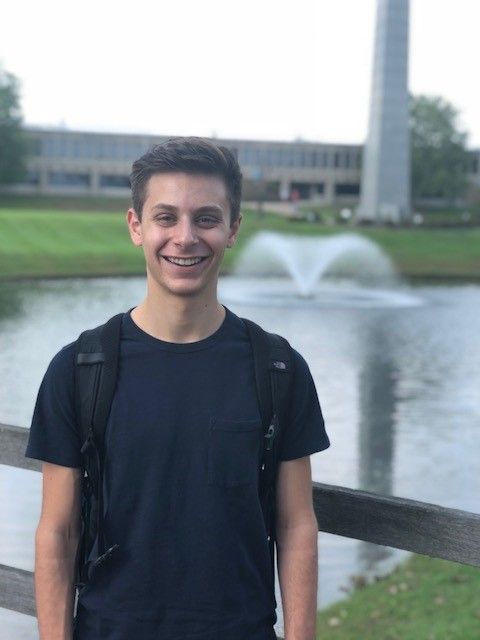 Hunter Spinks, freshman at The Ohio State University at Newark, sees the big picture.  Having received A Call to College Last Dollar grant, he values the financial assistance and acknowledges the good it does for our community.  Investing in higher learning ensures the next generation is educated and prepared to carry the torch once held by those visionaries and philanthropists before them. Having just graduated from Newark High School in 2018, Hunter can see clearly the progression taking place in Newark, his hometown.  He sees the investment in education as "enlightening the community as a whole." Newark is growing, changing, and becoming a better place because of the education received by so many at The Ohio State University at Newark.
Reflecting on the generosity of others through his Last Dollar grant, Hunter feels that his hard work in high school paid off.  "People who do not think they can afford college actually can because of generous donors.  You don't need a 4.0 grade point average in order to be recognized for doing your best in high school."
Attending The Ohio State University at Newark has allowed Hunter to save money on living expenses and continue his job with Abercrombie & Fitch.  He also benefits significantly from smaller classes and stronger relationships with faculty. 
The generosity of so many grows each year as graduates who were given opportunities pay it forward.  For Hunter Spinks, he sees the big picture and will no doubt, continue the generosity of those before him. 
Kassidy Flora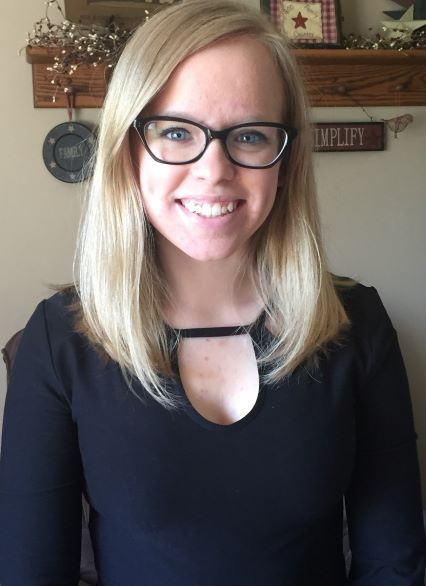 "I am grateful and so blessed that they chose me."  This real and genuine sentiment came from Kassidy Flora in the Fall of 2018 when she was awarded The J. Gilbert Reese and Louella H. Reese Scholarship for the final semester at The Ohio State University at Newark.  She received the same scholarship in 2017 and in 2016 was awarded The Everett D. Reese Scholarship. 
Flora, a 2015 graduate of Johnstown High School, initially attended a college away from home.  During the first semester of her freshmen year, she experienced a tragedy in her family.  Her family meaning the world to her, Kassidy decided life was too short and she would attend the Newark campus to be closer to home. 
In addition to being closer to family, Kassidy also recognized the importance of graduating from college with minimal debt.  Carrying the responsibility of funding education on her own with only part-time employment, she found The Ohio State University at Newark to be affordable in part because of the generosity of others. 
The scholarships received lifted the burden for now and into her future. 
Kassidy graduated in December 2018 with plans to pursue her dream of editing, publishing, and one day writing a novel. 
Mark Rose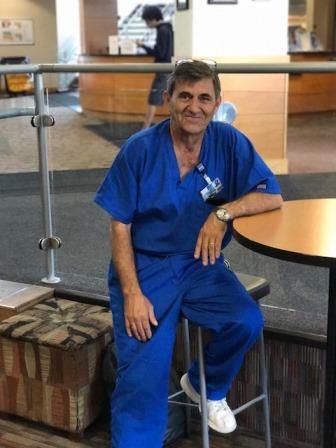 Fifty-four year old Mark Rose's journey through life hasn't always been easy.  After only attending one day of tenth grade, Mark walked away from the opportunity to further his education.  He became a father at 18 and later earned his GED in order to join the military at age 25.  Although he had long considered becoming a nurse, Mark found himself making a living in retail management once his military service had ended.   
In time, Mark looked at life differently.  It was an awakening.  After the sadness of losing a child to a heart defect and his mother whom he cared for, he felt compelled to pursue his dream of saving lives.  With the support of his wife Denise, he began a new path and enrolled in the Surgical Technology program at COTC.    
An immense burden was lifted when Mark was awarded the J. Gilbert and Louella H. Reese Next Generation Challenge Scholarship.  His life was forever changed: "I have so many reasons to be here and make sure I don't fail.  I get up every day with a determination and do what I need to do because I have people who I am indebted to because of what they've done for me." 
Mark's working to fulfill his long term goal of helping to save lives at Nationwide Children's Hospital.  Becoming a scholarship recipient was a profoundly humbling experience that has motivated him to pay it forward.  Mark is determined to make a difference: "I don't want to leave this world not giving back for what's been given to me."  Mark is a true inspiration who demonstrates great courage, drive, and appreciation for where his journey through life has taken him.  Making a difference and paying it forward are at the heart of giving through The Newark Campus Development Fund.    
Brittany Butler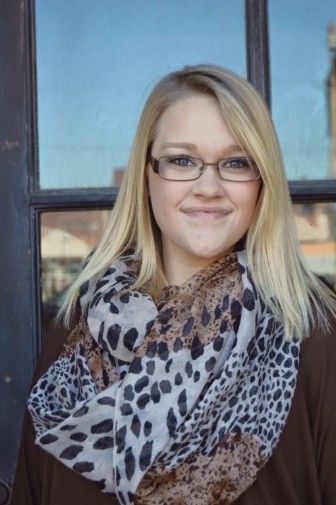 Brittany Butler knew she wanted to attend college for a degree in Early Childhood Education to one day teach children and make a difference.  She knew what she wanted, but simply needed the guidance to help her realize the steps to get there.  A Call to College helped guide Brittany toward higher education, and she chose The Ohio State University at Newark.   A 2016 graduate of Newark High School and recipient of the J. Gilbert and Louella H. Reese Next Generation Challenge Scholarship, Brittany felt a sense of "home" at The Ohio State University at Newark.  As a result of the generosity of donors to The Newark Campus Development Fund, a weight had been lifted off her shoulders.  To Brittany, "money saving is important and whether donors know it or not, the smallest donation helps whether for tuition or books.  A little financial stress off someone really does help." 
Brittany is inspired by not only the donors, but also by Dr. Warner, Professor of Education, who sets an example of positivity and critical thinking every day.    In turn, Brittany is able to broaden her view of the world, specifically through literature read in class.  Uniquely, donors to The Newark Campus Development Fund in conjunction with professors at the Newark Campus, inspire students to pay it forward. 
It is the ripple effect.  Generosity leads to inspiration which leads to more kindliness.  The effect of one donation, no matter how large or small, continues to inspire and create the spirit of giving.  Brittany is already giving back through her program placement at Carson Elementary, her internship with A Call to College, and her path to teach and shape young minds.  Brittany also has plans to pass on the philanthropy shown to her by one day helping others financially.  "I believe if you are given something you should pass it on if able.  It feels good to help people.  I can give back knowing that person is going to feel the same way I did." 
Torah Silvera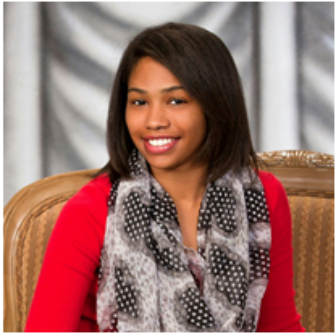 Torah Silvera found herself at a crossroads.  Faced with the difficult decision to stay in Ohio for school or move to Missouri with her family, Torah was able to continue her education at Ohio State thanks to a scholarship from the LeFevre Foundation.  As a History major and African-American Studies minor, Torah splits her time between the Columbus and Newark campuses.
She recently traveled to New Orleans for the debut of a documentary on the Mardi Gras Indians.  Initially planned as a seven-week project, the impact of the documentary became larger than expected and took multiple years to complete.  Being part French-Creole, Torah enjoyed the opportunity to participate in the project and learn about the traditions of the Mardi Gras tribe.  The documentary aired on PBS in New Orleans and the participating students presented their work at a research conference hosted by the Association for the Study of African-American Life and History.
After taking a class on immigration, Torah discovered her passion for minority issues.  She plans on becoming a college history professor so she can help raise student and community awareness.  Torah can't express enough how grateful she is to be a scholarship recipient, as it has enabled her to participate in projects that directly relate to her future aspirations.  She hopes to one day return the favor to future students and set them up for success as others have done for her.
Kelsy Wickline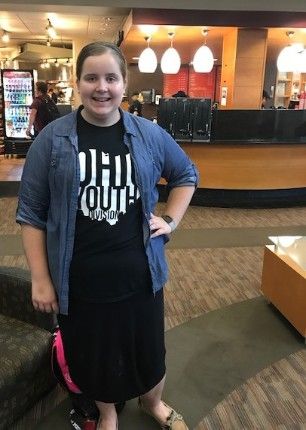 Kelsey Wickline is a Newark High School graduate in her freshmen year at The Ohio State University at Newark.  Initially, Kelsey planned to pursue higher education away from home.  That was until she met A Call to College representative Brett Underhill.  
A Call to College leads the way in advising students through the college process.  Because of the exemplary partnership between A Call to College and the Newark Campus, Mr. Underhill was able to introduce Kelsey to a financially accessible institution that would greatly reduce the college debt for her and her family.  In 2015, the average student loan debt was $30,100 according to the Project on Student Debt. 
In addition, Kelsey was awarded the J. Gilbert and Louella H. Reese Next Generation Challenge Scholarship which would further ease the financial burden.  She is the first in her family to attend college and is happy to be able to stay connected to family life while pursuing a degree in Early Childhood Education. 
Amanda Hite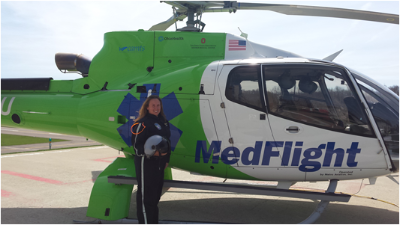 Don't ever tell Amanda Hite that you were too busy to get something done.  As a mother of four boys ranging from several months to nine years old, she works full-time as a flight paramedic and helps run her family's forty-acre farm while progressing towards her nursing degree at Central Ohio Technical College.  After graduating, Amanda will take part in a preceptorship program.  This opportunity is awarded to the top ten percent of nursing students and provides hands-on hospital training and experience.
Amanda's career of helping others started in 2001, when she earned her Paramedic certification and began working for her local fire department.  In 2006, she received her Associate's degree in EMS/Fire Science from Columbus State Community College and was also certified as a Paramedic instructor. 
For the last three years she has been working as a flight paramedic for MedFlight.  Stationed in Zanesville, Amanda works thirty-six hours each week, including a twenty-four hour shift.  She must be ready to deploy at a moment's notice during these long shifts, as the helicopter crew has just ten minutes to prepare for takeoff.  Amanda and her crew are capable of providing assistance throughout the entire state, but are tasked with flying into the unknown as they don't receive information on their assignment until they are airborne.  While some may find a twenty-four hour shift to be difficult, Amanda says the break between calls gives her more time to study than the demands of keeping track of her four boys.
Amanda's service to the community is an inspiration to all, and her educational achievements prove that being busy is no excuse.  While her official title will change from flight paramedic to nurse, the only difference is Amanda will be saving lives on the ground instead of hundreds of feet in the air.