Education & Community Service Create a Ripple Effect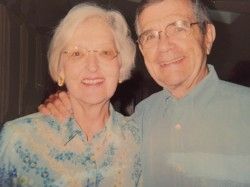 ---
Bill and Sue Moore became involved with NCDF during the Next Generation Challenge Campaign, where they discovered a wonderful opportunity to invest in education.  "Bill and I both felt the more education there was available to our community, the more we all would benefit.  I really believe in education.  My family all graduated from college;  my parents, siblings, aunts, uncles, cousins - there was never a question of whether I was going to college and the same was true of my own children,"  shared Mrs. Moore.  As a matter of fact, it was at college - Indiana University - that Sue and Bill met!
Throughout their lifetime, Bill and Sue were involved with many different organizations in Licking County.  Bill served eight years as Mayor of Newark, and participated in Rotary, Hospice of Central Ohio, and the Licking County Foundation.  Bill and Suel both served on many local boards and traveled the world – oftentimes as part of charity work.  When asked how she felt creating this legacy for her husband, it was through teary eyes that she replied, "Bill loved his church, he loved his family, he loved his job, he loved helping people.  Bill loved Newark – we are embedded here.  This is a lasting commitment to the community he loved – not just for today, but for a long time."
Dedication to community service is also something that Sue and Bill instilled in their children.  In view of that fact, his family chose to create a scholarship in his name requiring the recipient to "possess an outlook for community service and a demonstrated desire to give back; to help others in his/her community."  
Establishing this scholarship was a genuine family experience.  "My daughters are pleased to honor their dad, they feel he is worth honoring and that young people are worth investing in," stated Sue.  Every year, after the scholarship recipients were selected, Sue personally took copies of the winning essays with her as she visited each of her daughters and their families.  Together, they read the essays and marveled at the amount of community service performed by the selected recipients.  The family is proud and honored to have such devoted young people awarded scholarships in their father's name. 
---