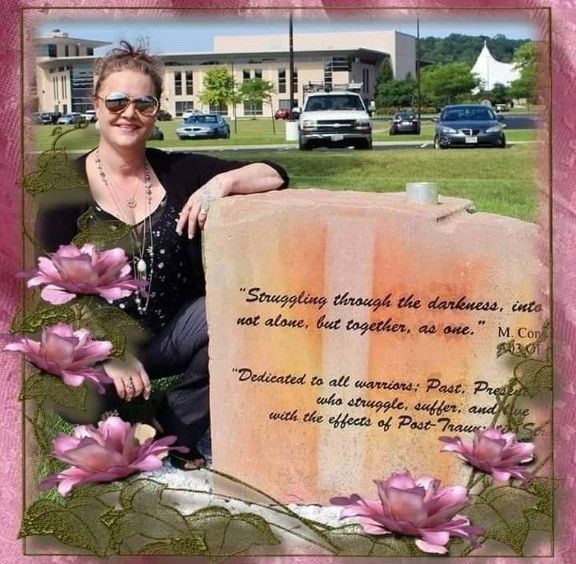 To say that Megan Connell-Cox is a non-traditional student is an understatement because attending college at the age of 42 is no easy task when living a married life with an active role in the community.
Megan's family moved around from Georgia to Ohio while she was growing up, and she attended multiple high schools along the way forcing her to adjust to new environments. This has benefited her in life when it comes to adapting to new situations. After she graduated in 1998, she joined the navy, and this is where you could say her story officially began.
Megan finished her position with the Navy in 2002. Her experiences before, during, and after her time in the Navy helped fuel her interests in researching Post-Traumatic Stress Disorder. Nearly 20 years later, Megan enrolled at COTC for an associate's degree in human resources to someday work with veterans, which led her to write a paper in her first semester about alternative treatments for service members struggling with PTSD, suicidal ideation, and substance use disorders. "That paper… it was the turning point for me," said Megan, where it led her to meet the CEO of Save a Warrior, Jay Clark, and got her involved in joining Post 85 American Legion and The Associates of Vietnam Veterans of America, Local Chapter 55 in Licking County.
Megan graduated from COTC in 2019 and is finishing her degree in social work to graduate from Ohio State Newark in spring 2023. "My heart belongs at COTC," said Megan when talking about her experience at the Newark campus. Both schools on campus hold the same values of faculty supporting the students' ambitions and using their education for success. Megan was Secretary for Phi Theta Kappa during her time at COTC and is now a member of Phi Sigma Theta at Ohio State Newark. She has enjoyed her time at the Newark campus because there is a strong one-on-one relationship between professors and students.
It was Professor Angela Frye at Ohio State Newark from her ethics course that had an impact on Megan's life to encourage her by writing another paper on a solution to assisting veterans that was later published by the National Military Intelligence Foundation in September of 2020. Professor Frye represents one of many faculty members on the Newark campus who aim to get students involved in new projects because the school's mission statement is to educate students towards success on and off-campus. In autumn 2021, Megan received the John W. Alford Scholarship, which was supported by a fund from the Newark Campus Development Fund, and it created an ensuring opportunity for her enrollment.
"It's a part of my story that helps put me or push me in the direction where I one day will be able to hopefully give back," said Megan when talking about the achievement of being rewarded the Alford Scholarship. She lives each day feeling blessed to have her schooling be financially secured, and she plans to use her degree to help as many veterans as she can in a future in social work.
Above: Megan had a stone engraved in dedication to the retired service members who suffer from Post-Traumatic Stress Disorder. She completed the monument in June 2019 and installed it outside of McConnell Residence Hall on the Newark campus with support from Newark Fire Department, Licking County Sheriff's Department and Newark Police Department along with Newark Mayor Jeff Hall, COTC President Dr. John M. Berry, and Ohio State Newark Dean and Director Dr. William L. MacDonald. The monument represents a gift from one veteran to the thousands of veterans in the United States that have dealt with PTSD since completing their service.