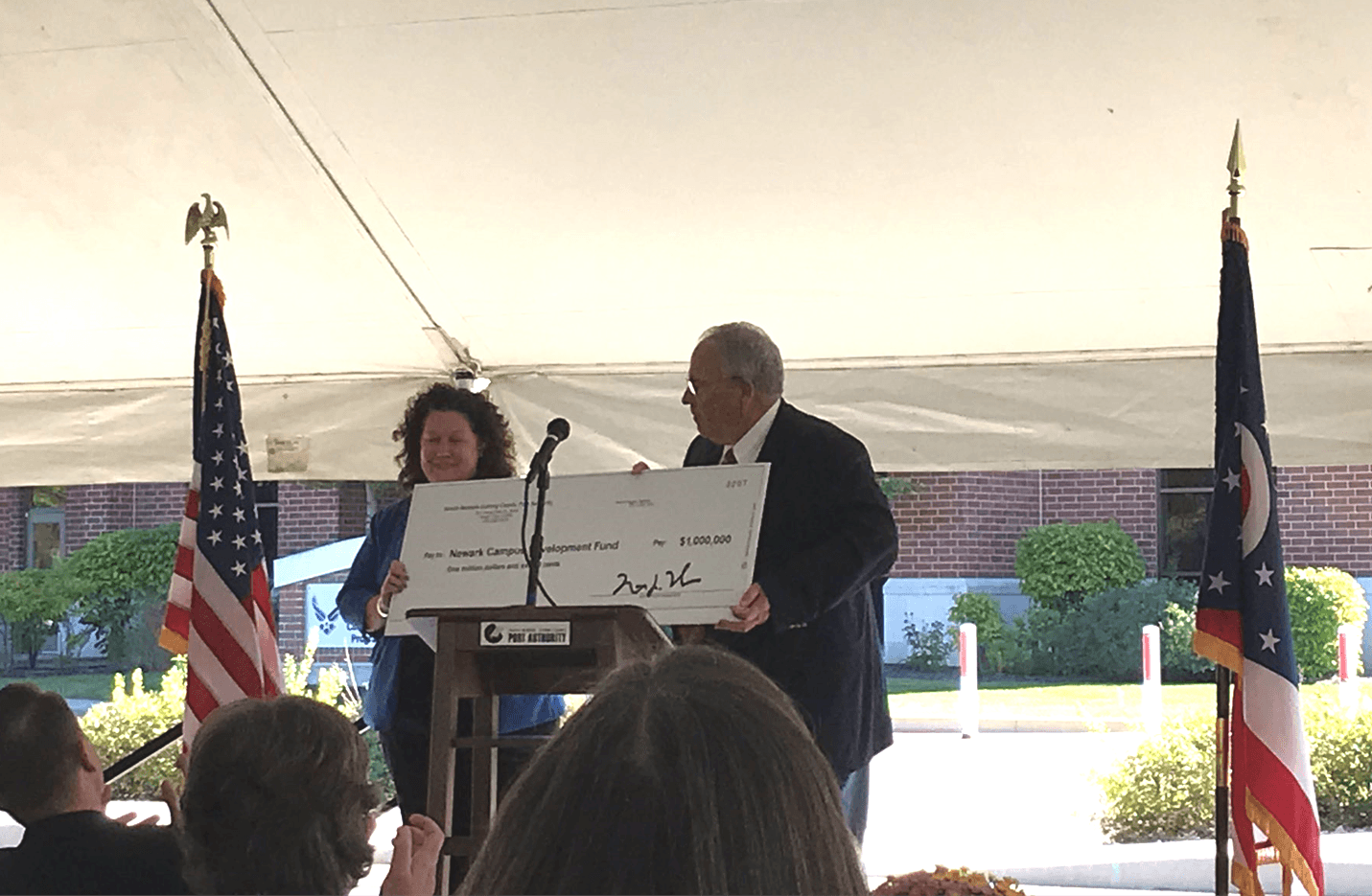 The Heath-Newark-Licking County Port Authority announced a $1 million promise to the future of STEM learning in Licking County in the form of a new, 20-year STEM Scholarship. The funding will provide scholarships for students attending The Ohio State University at Newark or Central Ohio Technical College with a focus on supporting science, technology, engineering, and math job opportunities in Licking County.
The initial gift of $50,000 was made public during a commemorative event marking 25 years since the transfer of the facilities of the former Newark Air Force Base on October 1, 1996 to the Port Authority. The Port Authority is promising to continue the $50,000 annual gift through at least the year 2041 as a recognition of the importance of STEM skills in fulfilling its job opportunities-focused mission.
"A large part of what we do at the former Newark Air Force Base is 'rocket science' and requires a highly skilled labor force," said Dr. Bob Klingensmith, Heath-Newark-Licking County Port Authority Board member. "It is our hope that these scholarships will help the citizens of Licking County meet the future employment needs of companies located on our campus."
The scholarship idea was initiated by Klingensmith and fully embraced by the Port Authority Board of Directors. Dr. Klingensmith has served on the Board of the Port Authority since its beginnings in 1995. The STEM Scholarship announcement is fitting with the theme of the 25th anniversary commemoration: Partnership.
Eligible students include those employed or a family member of those employed at businesses located on the Port Authority's Central Ohio Aerospace & Technology Center campus. Licking County residents pursuing a degree in a STEM-related discipline are also eligible. Scholarship recipients will be selected by the Newark Campus Director of Student Financial Services. The first scholarships will be available for the 2022-2023 school year.
"The Port Authority's generous funding of the STEM Scholarship will have a direct impact on training and equipping individuals with the skills they need to pursue local, in-demand career opportunities," said Rob Montagnese, Newark Campus Development Fund Chairman and Licking Memorial Health Systems President & CEO. "The access it creates for students locally to have experiences they may not otherwise be able to even dream about will strengthen our local workforce and economy for years to come."
Photo: Dr. Bob Klingensmith presents a check for $50,000 to NCDF Executive Director Jennifer Roberts.