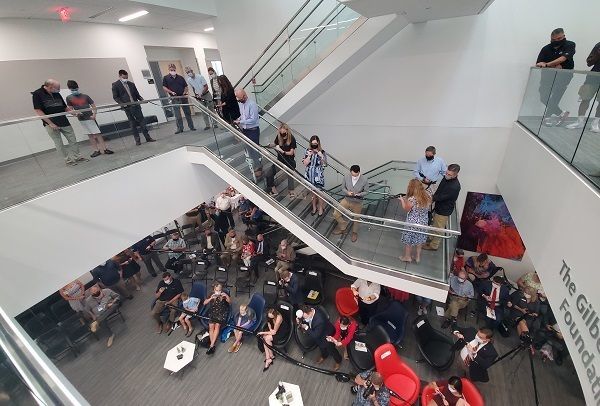 The community gathered on August 13, 2021 to celebrate the opening of the John and Mary Alford Center for Science and Technology with a ceremonial ribbon cutting. The newest addition to the shared campus of The Ohio State University at Newark and Central Ohio Technical College boasts 60,000 square feet of state-of-the-art learning spaces for science and technology. 
The $32 million capital campaign was successfully led by campaign chair and 22-year NCDF board member, Dan DeLawder. The community-wide fundraising campaign secured $13.9 million in private funds combined with $17.9 million committed by COTC and Ohio State Newark. John and Mary Alford were steadfast in their support for Ohio State Newark and COTC, and their family was extremely proud to honor their legacy. Ronald Alford, son of John and Mary Alford and NCDF board member, along with his sister Barbara Cantlin and her husband, Michael, contributed the generous lead gift to the project.
In line with the Newark Campus Development Fund's mission of providing local support to innovative projects and capital improvements at the Newark campus, our Board of Trustees was grateful for the opportunity to commit to a major gift in support of the project resulting in the Newark Campus Development Fund Anatomy Suite. This dynamic space combined with a host of advanced features housed within the new building will allow COTC and Ohio State Newark to expand programing, enhance student success, better meet local workforce needs and continue advancing the educational opportunities at the Newark campus.
We look forward to classes being scheduled in the building starting in autumn semester so our students can take full advantage of this state-of-the-art facility made possible with support from our generous community.