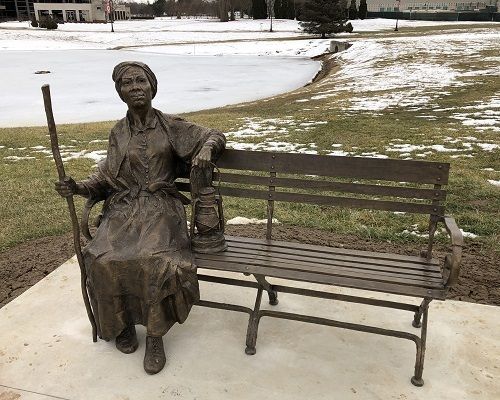 A statue of Harriet Tubman was recently installed on the Newark Campus of The Ohio State University and Central Ohio Technical College.
"We thank The Gilbert Reese Family Foundation which has loaned this sculpture to campus...In particular, we thank Lou Reese, whose belief in the importance of public art continues to enrich our campus and community," said Ohio State Newark Dean Bill MacDonald.
Born into slavery in Maryland in 1822, Harriet Tubman escaped to freedom in 1849 and went on to become an abolitionist and an activist. She became know as the Moses of her people because rather than remaining in the North in safety, she risked her life to lead scores of enslaved people to freedom along the Underground Railroad.
Harriet Tubman's commitment to destroying slavery also led her to assist the Union Army during the Civil War. She acted as a nurse to black soldiers and to blacks who had recently been freed from slavery. She also acted as an army scout and as a spy. She became the first women to lead an armed military operation, which freed hundreds from slavery.
After the war ended, Harriet Tubman dedicated the rest of her life to helping impoverished former slaves and the elderly. This sculpture reminds us of Harriet Tubman's amazing courage which serves as a source of inspiration for everyone.
This sculpture honoring Harriet Tubman was created by Gary Lee Price. This is part of a collection of life-sized bronze works called The Great Contributor Series. Thanks to the ongoing support of The Gilbert Reese Family Foundation, the Newark campus is home to the largest single collection of Price's Great Contributor statues. This new sculpture will join other great contributors on campus such as Albert Einstein, Amelia Earhart, William Shakespeare and the Wright Brothers, to name a few.