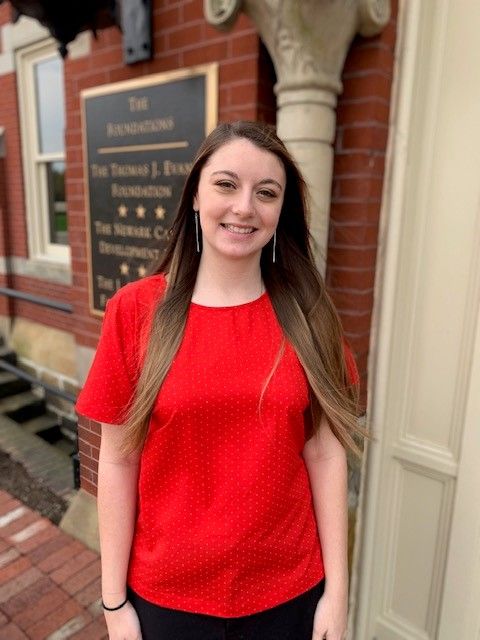 The Newark Campus Development Fund would like to acknowledge and thank Brooke Gulling, senior at The Ohio State University, for her helpful role as intern this spring.  Brooke will graduate in May with a degree in Business Administration. Her initial plan was to transition to the Columbus campus, but realized she could stay in Newark to earn her degree. Brooke graduated from Fairfield Union High School in 2015 and felt the Newark Campus was a better fit. After freshman year of commuting from Lancaster to Newark, she rented an apartment adjacent to campus. Brooke was then able to become more involved and take advantage of campus events.
In addition to a smaller campus, the business program at Ohio State at Newark is unique. Brooke and fellow students in the program use distance learning equipment for most of their business courses. This allows students on the regional campuses to video conference with professors in Columbus and students at other campuses. Students really learn how to connect with teachers and other students outside of the classroom. Attending class in this format is more interactive, as many have already watched the lectures beforehand. This also allows the professor to share more examples and answer more questions. By utilizing the distance learning equipment, Brooke will receive a Fisher College of Business education for less, but still have access to everything Fisher offers.
Learning online is really beneficial for students like Brooke, who work and attend school full-time. By working throughout college, Brooke will be able to graduate completely debt-free entirely from The Ohio State at Newark campus. This would not have been possible without the distance learning equipment or the regional business program allowing for such flexibility.
Best of luck to Brooke as she graduates and pursues a future in the world of business!